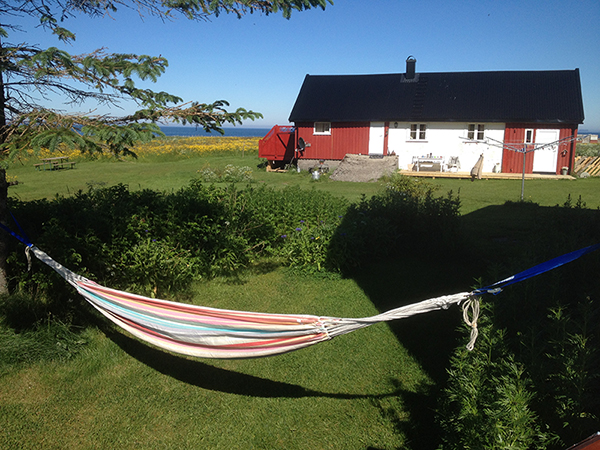 Welcome to Viva Lofoten, where you can find peace and quiet, pick up strength and gain new inspiration.
The fishing village of Laukvik is situated on the far side of the Lofoten Islands. There is a grocery shop there and a café, and the village is an excellent starting point for hiking, cycling and fishing trips in the local area. Here, you can find peace and quiet, pick up strength and gain new inspiration.
The Guesthouse (69 m2), which is set in magnificent countryside, used to be a barn, but has recently been converted, totally renovated and insulated against the winter cold, and can now accommodate 6 people. There are many large windows in the guesthouse, offering views of the sea, the mountains and the open countryside. From here you can observe white-tailed eagles as they fly past, and view the midnight sun or the northern lights. We have received a great deal of positive feedback with regard to the building's location, atmosphere and interior furnishings. The surrounding fields stretch all the way down to the seashore. In the Guesthouse, there are 4 -6 beds. Between the rooms, there is a large, modern and well-equipped kitchen, and in the bathroom there is a toilet and shower and underfloor heating. The Guesthouse itself is warmed up by wood stoves and electric heating. The Guesthouse is rented out as one complete unit.
At Viva Lofoten, guests can borrow bicycles, easels and the small building near the seaside , Atelier .( suitable for use as an atelier, studio an writer's workroom.
Groups: Viva Lofoten is a nice place for groups to come together.( max 10 persons).
You are also welcome to a longtime stay, Please take contact for special prices .
Wireless internett connection,bicycles, atelier/studio, easels are available for the guests and are included in the prices.
From the Guesthouse, it is possible to observe white-tailed eagles as they fly past, and view the midnightssun or the northern lights.
Fotogalleri and booking of the Guesthouse, please use this link: https://www.airbnb.com/h/vivalofoten-vacation